A Recruiting Pep Talk
By Real Estate Recruiting Coach Judy LaDeur
Now, more than ever, making your phone calls should be your priority if your goal is to continuously build a great team. I do know that everyone has the best of intentions, and stuff happens. It happens to me as well. However, now is the best time to get a great return on your investment of time spent on the phone and getting those appointments booked!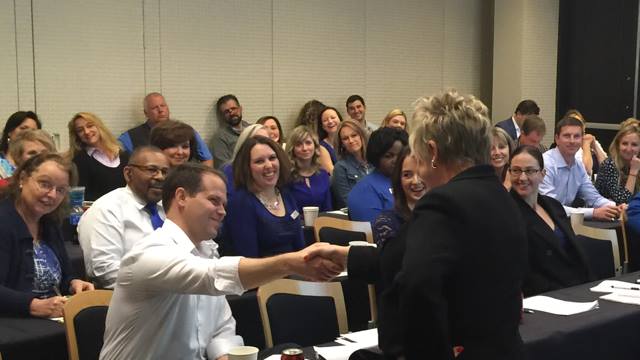 If you don't make your phone calls, you could be missing out on some great recruits this fall.  Everyone is back from winter break, but many agents have not yet ramped up their business. It's an easier time for agents to make a move, which is why we are seeing so many agents doing just that. I just talked to one of my clients who has a team of 12 managers that recruited 59 experienced agents in one month!  Their combined production is $189,000,000! What would a month like that do for your results? The only way to know is to get on those phones. Of course, marketing, promoting your results and networking also play an important role. Marketing, promotion, and networking should enhance your results when calling.   Would it be easier to make calls if you had just hired 59 top producing agents in the past 30 days? Of course, it would, but it all starts with the call.
This time of the year, if you are not going to make the calls to book appointments, then hire someone who will.  Someone recently told me that they thought that making calls was right up there with flying on airplanes, going to the dentist, or having a spider crawl up your leg as the greatest fears to the Broker owners of the nation.  What are you afraid of? I have literally made thousands of phone calls and I can count on one hand how many times someone has been rude to me.   If someone even thinks of taking a tone with me I'm quick to remind them, "I just wanted to remind you the fact that I'm calling you is a compliment to you today."  Usually, I'll get a change of heart "I'm sorry, I appreciate your call, I was just…" Whatever their reason, stay on task and stay positioned.
One of the best movies I have ever seen that helped me with sales calls is the movie Boiler Room.  Ben Affleck plays the role of a recruiter for new sales reps in a finance firm.  While training a group he tells them "Boys there is a sale made on every phone call, either you sell them to buy something, or they sell you why they can't, but either way, a sale will be made."  What a powerful reminder.  Keep Ben's line in mind as you make your calls this month.  Set yourself up for success.  Plan your calls out ahead of time.  Know who you are calling before you get to work. Many of the top recruiters still use the "old school technique: which includes a notebook with the names and numbers of those they are going to call written out.  In the movie The Pursuit of Happyness, the true success story of Chris Gardner, this is the best example of discipline in phone prospecting I have ever seen.  Chris is limited in the time he can call prospects so he doesn't drink water, which saves trips to the bathroom, and he never hangs up the phone, which saves him eight minutes a day.  I'm not suggesting anything that extreme; however, have a plan before you arrive at the office tomorrow of who you are going to call and have their numbers handy.  This organized plan will hold you accountable for your success.
Bottom line? Fire up those phone lines and make the calls.  In almost all of our webinars on demand, our spotlight brokers discuss their strategies for making the most of prospecting time.  There are powerful tips and techniques to be learned from them all.  In fact, there are more than 15 recruiting-specific webinars from which you can glean powerful ideas from some of the best recruiters in the business.  We are so grateful to our presenters who so generously share their success strategies with brokers all over the world.  There are also six specific audio-training downloads that revolve around phone scripts and strategies.  The tools are right there at your fingertips – let us know if you need help accessing them!
Continue to learn how to be the master recruiting skills and be the broker to join in your market. If recruiting is a challenge for you, we can help. Join The Profitable Recruiter and gain access to 7+ hours of audio training via downloadable links, powerful recruiting letters and notes, emails, social media tips, over 30 webinars for recruiting and retention, and opportunities to network with the best of the best. Join today and take advantage of our special offer of 50% off with the promo code 50OFF any pro membership.  
Not sure if this is the right thing for your company?  Watch this video on demand to learn why brokers across the country are making it their turn to way to stay positioned for recruiting success in today's market — and putting the fun back into their recruiting.  (Which is way better than dread – right?) We're taking the guesswork out of recruiting for brokers — and they are loving it.  We can do the same for you! Questions?  Email us today.