Say NO to Rejection
by Real Estate Recruiting Coach Judy LaDeur
Recruiting is still the lifeblood of this industry.  We all know that in order to make the hire we have to get the interview. To get the interview we have to get the appointment and in order to make the appointment, we have to make that darn call!  Easier said than done.
If you are currently reluctant to pick up the phone and make the call to breathe new life into your organization, commit to take this approach:  The NO REJECTION dialog. 
Start your dialog with a compliment or a word of encouragement to get the "No Rejection" dialog rolling. Topics could include complimenting them on: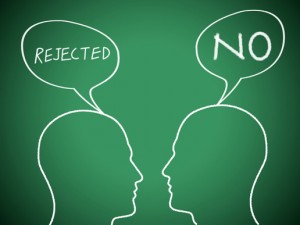 1)    Their personal website  (Of course you need to view it to discuss it)
2)    Recent ads they are currently sponsoring – (Especially since so many agents have cut back on their ads)
3)    Their average Days On Market for properties listed – (Discuss pricing it right; controlling seller expectations)
4)     The percentage from List Price to Sale Price – (Include CMA process and marketing strategies)
For the next 30 days, I just want you to call, discuss something that they will feel good about, compliment them and close with this phrase. "Do you have anything special planned for the holidays?" (Get their feedback.)  Continue with, "That sounds wonderful. I want to wish you, your family and those you care about the most wonderful holiday season ever. It's been a busy year for everyone, so take this time to relax, have fun and enjoy the things you enjoy doing. We are expecting another great year next year in real estate.  We look forward to working together with you in the New Year!" Yes, you read it right. I did not ask you to close for an interview. By not closing, you will remove the rejection factor.  Be prepared for your prospect to be surprised.  Most important, remain sincere and transparent.  As we approach the end of the year, it's important to build those relationships. We will be in touch with them again the first of the year, and that time we WILL ask them to come in for an interview.
This communication will build value into your organization while enriching your relationship with the prospect. Now, go ahead…make the call!
If you're ready to give your team or organization a truly solid foundation —  put systems in place that position you to build the team you really want, or learn more strategies for working smarter, not harder, bookmark our blog, and join The Profitable Recruiter today.  We have a full spectrum of membership benefits with all the tools, strategies and solutions you need to position yourself to win this year and every year. Our goal is for you to become the "turn-to" broker in your area for every agent.  
Join today and take advantage of our special summer offer of 30% off with the promo code 30OFF any pro membership.  That's 30% off everything you need to be in the right place at the right time when the agents you want are ready to make a move!